Latest News


October 10th 2015
Maeyc Hewitt 1959-2015
We have some very sad news: Maeyc died on October 2nd after a brief battle with cancer. This most likely marks the end of Ectogram, although it is quite possible that Ann and Alan will collaborate further in the future, as indeed they did on the day of Maeyc's death when they performed a tribute to their friend at the Nødutgang Festival in Bodø, Norway alongside their Nordic friends Ronny Wærnes and Lars Nicolayson. We will all miss Maeyc as a dear friend and fellow collaborator.

We will leave this site up as an archive, although it is unlikely to be added to short of any news of retrospective deluxe reissues or suchlike, none of which are in the pipeline at the moment. Thank you all for your support over the past 22 years.
---


December 15th 2012
Please note: Ectogram can be contacted most easily via our Facebook group. We also have a YouTube channel featuring a selection of Ectogram videos. For the retro-nostalgists amongst you, we still even have MySpace site, although of course we never look at it or update it. Ectogram LPs and CDs can be obtained from turquoisecoal.com and ankst.net as well as from several other online and real life outlets.
---
Just when you thought we were dead....
Things have been eerily quiet on the Ectogram front for the last couple of years, but SURPRISE SURPRISE! We're Back! AND WE HAVE A BRAND NEW ALBUM!!
Ectogram - Exo-Celestial LP released 21st December 2012
For Ectogram's seventh album, the group proposed a set of rules. The previous two releases had both been recorded live in the studio with minimum overdubs, one largely improvised and later edited into songs, the other pretty much pre-arranged and rehearsed songs captured faithfully as performed live. It seemed time for a different approach.
The group had plenty of songs that they had been playing live for the past couple of years, varying in length between five and fifteen minutes and featuring their familiar barrage of abrasive guitar textures but...

What if the album was to be a standard length 'pop' LP containing twelve three minute songs?
What if no electric guitars were to be used on the album?
What if the group were to all record their parts separately with little or no live interaction?
Ectogram began work on the record with these three premises in mind, Maeyc laying down drum tracks at his home studio and passing them on to the others to add whatever instrumentation they saw fit. After passing the recordings back and forth between the three of them over many months, they arrived at Exo-Celestial. Of course, with the group not being prone to observing rules, some electric guitar did sneak its way onto the record (although very little) and some songs ended up longer than three minutes (though only a bit), but generally the record sounds quite different to previous ectoreleases and the group even managed to squeeze thirteen songs into the 45 minutes playing time!
Drums and vocals provide a familiar framework for the songs, but the space between is awash with the exotic colours of non-rock instrumentation - clarinets, glockenspiels, recorders, mandolins, mellotrons, analogue electronics and even pan-pipes! Everything is propelled by Maeyc's drums, bass and sine wave groove as Ann's melodiously layered vocal curlicues soar and swoop above and through the sonorous cocktail. Exo-Celestial is Ectogram's pop album, although a pop album more in the tradition of The Art Bears, Roxy Music and Stereolab rather than One Direction, Olly Murs or JLS.
Exo-Celestial is released as a limited edition vinyl LP on the last day of the World, December 21st 2012 and will be the perfect last record you ever listen to. The record is available in two subtly different versions on the Welsh label Turquoise Coal (TURQUOAL 002) and the German label Pure Pop For Now People (PURE 12). Although the record itself is identical in both issues, the sleeves are slightly different, making it essential for true Ectogram completists to obtain both! Each label has released 100 individually numbered copies, which are available from turquoisecoal.com or ppfnp.com
---
Another year gone...
Ectogram finished off 2010 with a great gig as backing band / sound carriers for legendary ex-Can vocalist Damo Suzuki. The gig took place on December 3rd in CeLL - a converted police station / courthouse in the old quarry town of Blaenau Ffestiniog, deep in the icy wastes of north Wales. It was great to catch up with Damo again, having briefly played with him back in May 2004 and as ever with Damo gigs, the set was completely improvised, comprising a single 74 minute piece. The performance can be seen in its entirity on our YouTube channel here. Support at the gig was provided by excellent Welsh instrumental surf combo Y Niwl, whose self-titled debut album is highly recommended.
Damo Suzuki with Ectogram at CeLL, Blaenau Ffestiniog, 3rd December 2010
---
Ectogram started off 2010 with a hometown gig alongside our friends from the Netherlands The Bent Moustache on January 10th. Despite severe weather conditions keeping the faint-hearted away, a great time was had and guitar wizard Duncan Black also put in a great set.

On April 24th, Ectogram returned to the by now familiar surroundings of The Others in London's Stoke Newington to play at the Brigadisco festival, a three day affair featuring mainly Italian groups from the Brigadisco label. By way of keeping with the Italian theme, our old friend Adriano Lanzi once more joined us on stage in what was probably the most successful of our three collaborations with him to date.
Maeyc and Ann at The Others, April 24th 2010 (photo: Medwyn Jones )
---
Ectogram had a pretty quiet 2009 due largely to Ann's continuing studies, but managed to squeeze in another gig on September 18th at the Anglesey Arms with special guests Factory Star, the great new Manchester band formed by Fall and Blue Orchids founder Martin Bramah and featuring the Fall's classic period rhythm section of brothers Steve and Paul Hanley. On the solo front, issue 18 of the excellent Sound Projector music magazine featured an exclusive non-LP Annalogue track on the free CD and Maeyc's self-styled clichéd rock group Facefish also put in a handful of live appearances, including Alan's 50th birthday party in July!
---
Annalogue LP out now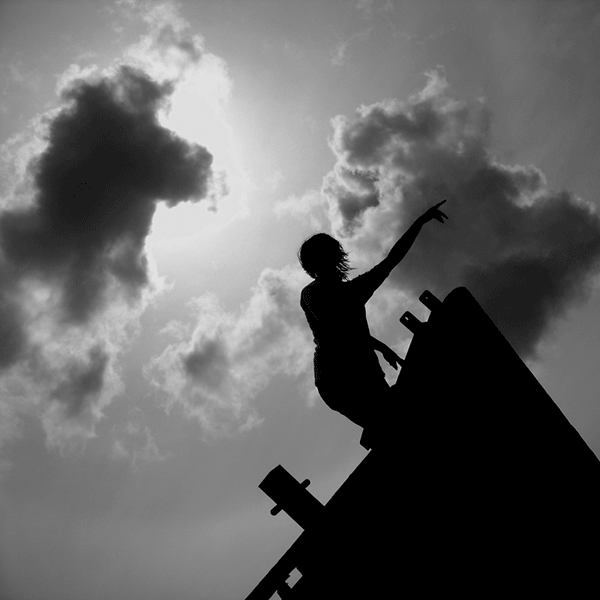 Ann's debut solo album (as Annalogue) was released on May 1st. Like the earliest Ectogram records, 'Brocken Spectre' appears on the cult underground Atol label. Ann plays all the instruments on the album herself, with the exception of a guest appearance by Sue Hewitt, who contributes drums to one song. Further information and reviews can be found here and the record can be obtained from ankst.net. The video for the track 'Tony Wilson' can be seen on YouTube and further Annalogue music can be found on her MySpace page.
---
2009 kicked off in fine form with Ectogram travelling down to London to take part in the Drones Club international avant-party on the 24th of January alongside old friends Ronny Wærnes from Norway, Traummaschine from Spain and Adriano Lanzi from Rome (who once again joined the group on stage - this time for the whole performance). The event took place at The Others in Stoke Newington and a small extract can be seen on YouTube
Ectogram with Adriano Lanzi at The Others, January 24th 2009 (photo: Amaia Eguiluz)

A few days beforehand, they also played host to Ronny Wærnes at the Anglesey Arms hotel in Menai Bridge (north Wales). Ectogram were unable to play as such due to Ann being unavailable, but Alan and Maeyc put together a one-off supergroup for the occasion comprising themselves, Ronny Wærnes, Ian McMillan from Facefish and Edwin Stevens from Klaus Kinski, who also played a fine set. A very loud and enjoyable evening ensued, some recordings of which should hopefully appear in the coming months.

In addition to the short Italian tour in February, Ectogram have played three UK dates during 2008 - in Manchester, Menai Bridge and Cardiff. Details as always can be found on the gigs page.
Ectogram on stage at the Sŵn festival, Cardiff 15th November 2008 (photos: Peatree Bojangles)
---
Italian trip
Following a home town gig at the Victoria in Menai Bridge with Holland's The Bent Moustache on 7th February, Ectogram set off for a short tour of Italy the following week. This was their first ever visit to the country, where they played two concerts, both of which were most enjoyable. On February 16th, Ectogram played at the excellent Bloom club in Mezzago, just outside Milan, alongside the very fine post-rock Hellakin Mascara. The following day, after a picturesque train journey, they took to the stage at Rome's splendidly named Sinister Noise club, where the noted experimental musician Adriano Lanzi joined in for the second half of the set. Adriano's sonic arsenal of sampled noises added a whole new dimension to the Ectosonic stew and it is to be hoped that further collaborations will follow. Also on the bill at Sinister Noise were Rome's premier shoegazers La Calle Mojada and inventive avant-fusionists Tribraco, both of who are highly recommended and well worth seeking out.
Following the last minute cancellation of a proposed third Italian date, Ectogram made full use of some extra time in Rome to ensure that the eternal city prominently backdrops their next video. All in all, a most enjoyable trip and we are all looking forward to returning to Italy as soon as possible.
Ectogram with special guest Adriano Lanzi on stage at the Sinister Noise Club, Rome
---
New split release
Cult underground record label Giant Hammer has just released a split EP featuring Ectogram alongside Llanfairfechan's premier noise terrorists Klaus Kinski. Although billed as an "EP", it is in fact longer than most people's albums, with the Ectogram contribution being a single thirty three and a bit minute long epic. The CD also features five fantastic tracks by Klaus Kinski, described fairly accurately by Giant Hammer as "5 screaming, sex-noises that sound like the bastard child of The Fall and Arab on Radar or if The Birthday Party had a Birthday Party and Nick Cave hadn't been invited and he went mental and blew up the house next door by accident". The CD comes in a hand-printed sleeve and can be obtained from the Giant Hammer website.
---
Summer Festivals
Ectogram recently played a couple of festivals in Europe. Most recently was a return visit to the Klangbad Festival in Scheer (southern Germany) between the 3rd and 5th of August. They previously played there two years ago at the 2005 event as well as returning to the town last year to record the new album. This year's line-up also included Circle, The Nightingales, Pharaoh Overlord, Paper Factory, Nista Nije Nista and Parking Non-Stop (and many more) and was a very enjoyable event indeed.
A few weeks earlier, the group paid their first ever visit to the Arctic, appearing at the Nødutgang festival at Bodø in the north of Norway. The festival was a unique and wonderful event and the group thoroughly enjoyed playing there, hearing all the other great acts on the bill and also indulging in 24 hours a day of sunny partying amongst the finest possible company. In addition to playing a set at Bodø's Sinus Club, Ectogram were also very excited to have the opportunity to play a collaborative set with Frankfurt psychedelic duo S/T and Bodø noise artist Ronny Wærnes (who also guested with them at Sinus) at the Gimle Club.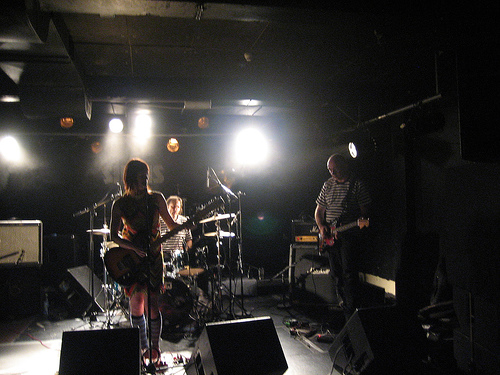 Ectogram at Sinus Club, Bodø 22nd June 2007 (photo: Cornelius Horstmann)
Ectogram at Sinus Club, Bodø 22nd June 2007 (photo: Ian Land )
Ectogram with special guest Ronny Wærnes (far left) at Sinus Club, Bodø 22nd June 2007 (photo: Joachim Gaertner )
More photos from the festival can be found here (by Ian Land), here (by Joachim Gaertner - click on "photos") and here (by Cornelius Horstmann)
Ectogram completists might be interested in three compilations that have appeared over the past couple of months:
click on the covers for further details and track listings
As if this wasn't enough, Ectogram also share a forthcoming split release with Llanfairfechen noise terrorists Klaus Kinski, highlighting the group's more uncompromising side and appear on a new compilation on the Mind Expansion label, run by Randall Nieman of legendary Michigan post-rockers Füxa.
---
New CD and Vinyl LP
In contrast to their usual tardy work rate, Ectogram actually have not just one, but two new albums out, with further releases and a couple of Summer festival appearances to follow.
"Fluff on a Faraway Hill" is a full length CD featuring 8 brand new songs recorded with producer Hans Joachim Irmler at his studio in Scheer, on the banks of the Danube in southern Germany. The CD is out now on the Klangbad label: www.klangbad.de
"Concentric Neckwear" on the other hand, is an alternative vinyl interpretation of Electric Deckchair, featuring completely different versions of all the songs on the 2CD set condensed on to a single vinyl LP. It comes in a special deluxe gatefold package with artwork specially comissioned from one of Germany's foremost graphic artists in a limited edition of only 200 individually numbered copies. It is one of the first two releases on a new Frankfurt-based label, deceptively called Pure Pop For Now People that will concentrate on limited edition vinyl releases and is available now from their website.
---
Faust box set
A lavishly packaged box set has also just been released on the Dirter label, documenting German experimentalists Faust's UK tour of Autumn 2005, where Ectogram supported. The box includes three CDs and a DVD of live recordings from the tour, together with a documentary book containing memoirs of the tour by Jean-Herve Peron of Faust. One of the CDs includes the performance where Ectogram joined Faust on stage to play "J'ai Mal au Dents". The wonderful artifact is titled, appropriately, "Faust in Autumn"
More film news
"Y Lleill", the bilingual film for which Ectogram provided the soundtrack (see below), was screened over two days at London's ICA in December. It also was awarded the Bafta for best movie at the 2006 Bafta Wales awards in Cardiff, although Ectogram's soundtrack was just beaten to the post by their old friends Mark Roberts and Paul Jones for their music for the TV series "Codi Angor". Paul incidentally played on some of the very earliest Ectogram material, many years ago.
---